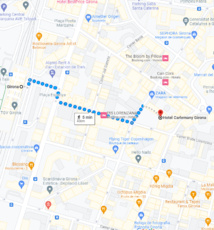 COURSE VENUE
Hotel Carlemany Girona
Plaça Miquel Santaló i Pavor, 1
17002 Girona
Spain

5 minutes walk from the Train Station.
TOURIST GUIDE Barcelona/Girona : CLICK HERE

Private transfer services from barcelona Airport (BCN) to / or from Girona towh centre
Private transfer service that operates between Barcelona airport (both Terminal 1 and Terminal 2) and Girona centre.
We have provided a link below where you can reserve either of these services.
You have 3 reservation options:
1. one way journey from Barcelona airport to Girona centre only,
2. one way journey from Girona centre to Barcelona airport only
3. return journey from Barcelona airport to Girona centre.
It is recommended that you book your transfer well in advance of your trip. Unfortunately the service cannot be booked if it is within 24 hours of your arrival.
Follow this link:
Transfer service from Barcelona airport to / or from Girona town centre.
Transfer to Girona from Barcelona Airport by Train
There are no direct trains from Barcelona Airport to Girona. Therefore, it is necessary to take a train into the centre of Barcelona to head out towards Northern Catalunya.
Take the
Barcelona Airport Train
R2 Nord to Estacio Sants. At Estacio Sants you will need to change.
If you are arriving into Terminal 1 (T1) you will not be able to walk straight to the train station, as it is 4km away. You will need to take a
shuttle bus
from outside the terminal.
There are numerous trains travelling from Estacio Sants to Girona - approximately three every hour. On average the journey lasts about 1 hour 20 minutes. Check the
RENFE Website
for the train times.
It is worth travelling on the local trains rather than the national ones as the train tickets are cheaper. Look for trains with names such as Catalunya Express and Regional rather than Costa Brava and Talgo.
Regional train fare: €8.40
Talgo train fare: €31.00
By taxi
The distance from Barcelona Airport to Girona is approximately 90 km. This will take about one hour in a taxi.
Taxi Fare: €186.00